A Brand Reachout Initiative
Skilling
32% of Singapore employees expect upskilling and reskilling support: Sure-fire ways to fulfil it
With increasing numbers of Singaporean employees demanding upskilling and reskilling support from their employers, leaders must devise innovative ways to offer continuous opportunities for their employees' growth and development.
The impact of Industry 4.0 and COVID-19 on the Singapore economy has surged challenges for Singapore businesses. New jobs are evolving, and existing skills are getting obsolete exponentially. Upskilling and reskilling have become vital for Singapore businesses to thrive and survive in the uncertain market.
As per a survey conducted by Randstad Singapore, only 15% of Singapore employees said that their employer had implemented more reskilling opportunities during the pandemic to bridge the skills gaps. 
Employees too understand the value of upskilling and reskilling to stay competitive. They need new skills and capabilities to achieve the company's goals. As per Randstad's survey, 27% of respondents in Singapore want their employers to provide more reskilling opportunities to meet employers' expectations. 
Due to digital acceleration, customer demands are changing. Most Singapore employees are now taking the initiative and investing time and effort in acquiring new skills to provide utmost customer satisfaction. However, some of them expect support from the employers for learning in the flow of work.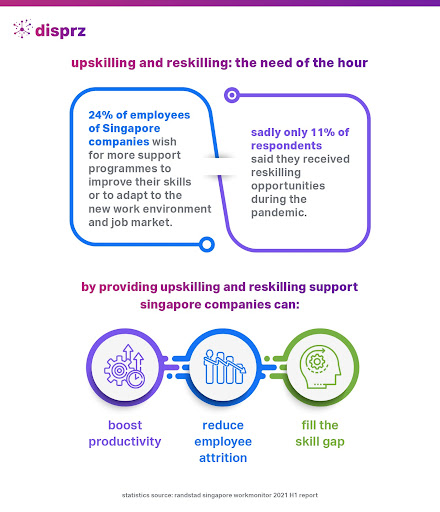 A few Singapore companies have begun prioritising their employees' needs for upskilling and reskilling.  
As per Mercer's 2021 Global Talent Trends Survey,  44% of Singapore companies plan to expand learning ecosystems, while 41% will increase investments in targeted reskilling and upskilling of critical talent pools.
However, many Singapore companies are still wondering how to embark on the employee skilling and development journey. If you are one of them, then fear not, it is never too late to start. Read on to find sure-fire ways to support employee upskilling and reskilling. 
How to support employee upskilling and reskilling?
Reskilling and upskilling can be a strategic response to the constantly changing industry challenges in pandemic-ridden times like these. Skill-focused development increases efficiency and makes the workforce more agile to adapt to evolving Singapore market trends. Here is how you can successfully upskill and reskill your employees to unlock their full potential and prepare them for new responsibilities. 
Move beyond in-person training and embrace virtual learning 
Nowadays, most employees prefer the hybrid work culture over the traditional working model.
38% of Singaporeans report they are now working from home more often than before the COVID-19 pandemic.
Transitioning from in-person training to virtual learning can help maintain the balance between work on-site and remote work.  Consider embedding a learning system in your organisation that best fits the hybrid work culture. An advanced learning solution helps develop, streamline, and distribute courses to employees online in real-time. You can easily conduct live sessions and breakout rooms to train a team or create learning pathways to carry out individual training. Moreover, analytics in modern online learning tools help measure the effectiveness of the courses and track the learning progress of employees to take timely actions. 
Identify the skill gaps and benchmark skills for each role 
Skill gaps are one of the biggest hurdles to attaining business goals. A skill gap is a difference between the skills that a specific job requires and the skills that an employee possesses. An in-depth skill gap analysis can help build impactful upskilling and reskilling programs. 
Begin by benchmarking skills for each job role in your organisation. An all-in-one skilling suite like Disprz can be a great help in role-based skill benchmarking. Through its data-driven approach, you can identify and focus on trending functional, leadership, digital & meta-skills for 2000+ job roles. Once you define and benchmark skills for each role, take a closer look at your employee's performance to find the gap. By leveraging the extensive features of Disprz, you can drive engaging learning experiences to bridge the skill gap.
Address unique learning needs through personalisation 
As Singapore faces unprecedented changes and volatility, most companies recognise the importance of personalised learning to respond to shifting demands. One size doesn't fit all; each employee has different skill gaps. It is crucial to address these unique learning needs to make your employees future-ready. 
Opt for a skilling solution powered with AI capabilities that facilitates on-demand learning. AI helps in aligning learning with an individual's performance goals. It recommends content based on the learner's interest, learning history and job role. Learning becomes more meaningful with a pinch of personalisation, which directly impacts employee performance. 
Studies show that 95 % of companies that deliver personalised learning reported an improvement in individual performance. 
Increase engagement through gamification 
Gamification helps in taking employee skilling and development to the next level. It can transform dull upskilling and reskilling sessions into interactive and engaging learning experiences. With a roulette wheel and polls, you can make your live sessions more lively for your distributed workforce.
Moreover, leaderboards help in striking up healthy competition between employees. It works as a stimulus motivating employees to perform better during a skilling session to rank first.
Bring training in the flow of work through mobile learning 
Boost adoption and completion rate by bringing training in the flow of work with mobile learning. By creating and sharing courses on the mobile, you give employees the flexibility to learn on the go.
Employees can easily access learning material at their convenient time. Through mobile learning, employees can remember what they've learnt and instantly apply it to work. This helps in filling the performance gaps. 
As per research, Mobile learning improves productivity by 43%.
When you have mobile learning solution at your disposal, it is easier to make training a part of the learner's routine rather than a once-in-a-while occurrence. 
Conclusion 
Upskilling and reskilling strategies that work well can positively impact employees' performance and even the companies' bottom line. So ensure you invest time and effort in planning your employee skilling programs. Most companies are using Learning Management Solutions to upskill and reskill their employee. 
One of the Singapore food retail chains uses Disprz LMS to help their employees acquire new skills and enhance existing ones. With its wide array of features, they could drive impactful learning journeys and empower their employees to provide utmost satisfaction to their customers. The right learning solution can make a big difference to your employee skilling programs. So, analyse your needs and opt for the best learning solution for your organisation.