Online Learning Solutions
Facebook is taking on LinkedIn with a career-development site
The social networking giant enters into skill building with a portal called Learn with Facebook with lessons and resources from industry experts
Facebook announced the launch of a new career development site to provide an introduction to both hard and soft skills needed for people to advance in today's digital workforce. Called Learn with Facebook, the free lessons available on the portal include several modules such as "Ace Your Interview" and "Manage Your Content Marketing". The lessons also feature case studies, insider tips, and resources from industry experts.
Earlier this year, Facebook announced that it will train one million US business owners and equip more people with the digital skills they need to compete in the modern workplace. The new tools and resources launched are aimed at furthering this commitment. Facebook has partnered with Goodwill Community Foundation to offer this training across the US. And the company plans to offer training resources for individuals of all backgrounds and education levels.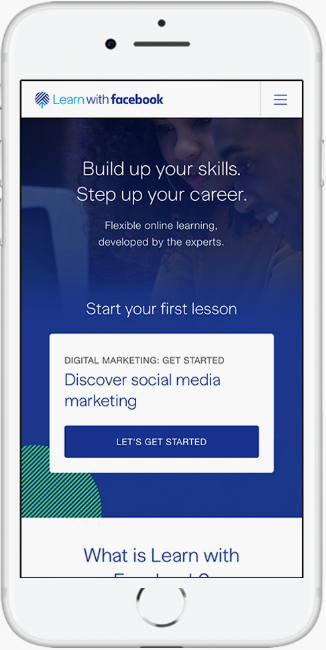 In addition, to improve jobs tool they launched last year for both people and businesses, they will now enable businesses to share their jobs in Groups. More than 200 million people on Facebook are members of Groups, says the company, and this update will allow people who may be interested and qualified to better discover open roles.
The social networking giant also updated their Mentorship tool. People in Groups can now choose a mentorship partner based on their goals and interests. You can sign up to share information about what they're offering or looking for, and then others in the Group can browse a list of those available people to find a match and reach out directly. Each week the tool gives pairs helpful prompts to keep the conversation going.
Encroaching LinedIn's territory?
The launch comes as the company continues to diversify its core Facebook offerings beyond newsfeed, status and photo-sharing functionality.  However, Facebook is getting closer to LinkedIn as the platform for people who want to enhance their career prospects. With the launch of two new features --Mentorships and Jobs, the company took the next step in that strategy. It's clear that Facebook wants to be the ultimate career guide. After debuting Jobs on Facebook, which helped businesses post job listings on the social platform and reachout to possible applicants, the company is now launching Learn with Facebook. This development is a strong message of how the social network is continuing to diversify its platform and onboarding more people to its platform. Having said, this is just a baby step for the company as it plans to meet company's bigger mission to train one million people and businesses in the U.S. in digital skills by 2020. The company is also open to forging more partnerships and acquiring other e-learning sites, according to a TechCrunch report, and bring in more content to meet the needs of job seekers.
The service aimed at the whole gamut of audiences including entrepreneurial students, job-seekers, small business owners or tech startups, Learn with Facebook has potential to make a mark, especially at a time when discussions are on around how global workforce is set to face a shortage of skilled labor.