Life @ Work
Office workers are seeking more support, training and flexibility as they work-from-home: Study
The research sought to uncover how attitudes to remote work changed among office workers last year and what leaders can do to support their employees as they continue to work from home.
According to a new study by SilkRoad Technology, the vast majority (86%) of C-suite respondents thought that their company had demonstrated commitment to their employees, but over half of respondents wished their employers had provided more support. The study, entitled 'Do office workers feel supported working from home?' was conducted in partnership with OnePoll and surveyed 1500 office workers and 500 C-level executives based in the US. The research sought to uncover how attitudes to remote work changed among office workers last year and what leaders can do to support their employees as they continue to work from home. 

Priorities for C-suite leaders looking ahead to 2021 include: 
Finding new ways to serve customers and build resiliency without losing agility
Identifying roles critical to accomplishing organizational strategy or facilitating a new digital business
How to reskill talent to meet emerging needs. 
However, it was evident that tech and transformation was on the minds of many in the C-suite as the top priority, with 84% of executives agreeing that accelerating towards digital business transformation in order to sustain long-term profitability was critical for 2021. This is unsurprising, given the increased reliance office workers will have on digital solutions in every aspect of work as remote, distributed or hybrid continues to gain in popularity as a work model, even after the pandemic subsides. 
The risks of mishandling work from home support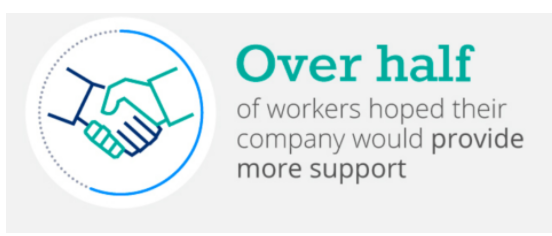 The study also found that onboarding had not been at it's best for many office workers who came aboard during the pandemic. While the majority (80%) of executives agree that a smooth onboarding process, performance management and learning opportunities are essential to successfully transitioning or introducing new hires, promotions or transfers into a new role, there are still certain areas where this is failing to happen. For example, of respondents who had started a new job during the pandemic, 52% felt like they didn't receive enough training and 56% still have unanswered questions about their role. The pandemic was also a time of great change for many, with 63% of respondents taking on new responsibilities. However, of these, 27% said they received no training or support to cope with these new duties. 

One more worrying statistic was that 2 out of 5 office workers plan to resign and get a new job based on how their company handled the pandemic, suggesting some of the damage may already been done with regards to organisations offering sufficient support last year. 
"This survey has confirmed and even emphasized what we were hearing from enterprises around the urgent need for adopting digital business models to help them compete in our new world," said Robert Dvorak, President and CEO of SilkRoad Technology in the official press release. "Successful digital operating models emerging in 2021 will be centered on people and delivering an exemplary employee experience. Workforce transformation and change management are integral to planning and designing digital operating models, but are often overlooked, contributing to recent high failure rates." 
A disconnect between leaders and employees 
What seems to emerge from SilkRoad's study is a disconnect between leaders and their employees. From successful onboarding to support in learning opportunities and positive employee experiences, leaders will have to reconsider how these components will change and transform under remote and as their employees continue working from home. Communication is key to this, along with listening to what workers need and want in order to avoid misunderstandings and deeper-seated disconnects. 
Commenting on the findings, Lilith Christiansen, Chief Strategy and Product Officer at SilkRoad Technology said "It's imperative to have regularly cadenced communication and check-ins, ample training and clarity around performance goals and expectations to drive retention and deliver a better employee experience that yields results."