Leadership
Rapid Fire with British American Tobacco in SG's Head HR
Backed by a range of roles across domains in HR, Mausami Arora, Head of HR at British American Tobacco in Singapore shares her thoughts on leadership.
Mausami Arora brings a unique mix of experiences across Technology and FMCG industries. She is passionate about solving business challenges in collaboration with business leaders.
Backed by a range of roles across domains in HR, Mausami Arora, Head of HR at British American Tobacco in Singapore has worked in business partnership, employee relations and program management within in-country, regional and global teams. She is currently leading a multi-disciplinary team of HR experts at British American Tobacco in Singapore.
Mausami shares with us one of the most important factors when hiring someone and many more.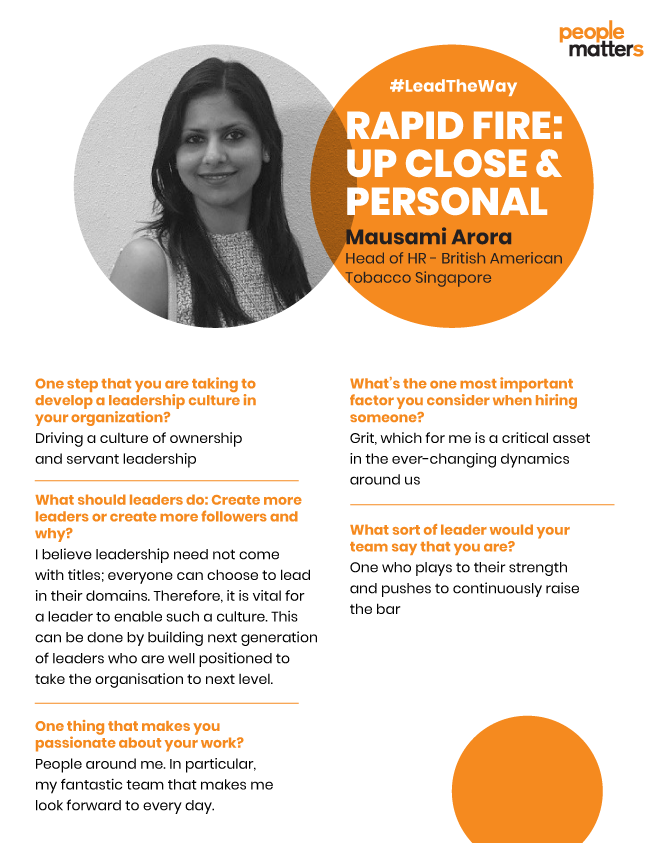 Who is the one leader you look up to?
It's not just one. I derive inspiration from the passion that any individual brings to the table. The list would range from my 14 year old niece to industry veterans to sports stars and many more.
What is the one leadership lesson you learned on the go as a People Leader?
The importance of providing enabling support to team when things are not going in intended direction.
How digitally ready are you as a leader on a scale of one to ten?
I would say 8. With myriads of tech solutions available in the market, there is always a catching up to do
Which was the last book you read on leadership?
Influence: The psychology of persuasion by Robert B. Cialdini
What is the one thing leaders should do to make a difference?
Respect capability of every individual and leverage it wisely
One step that you are taking to develop a leadership culture in your organization?
Driving a culture of ownership and servant leadership
One thing that you consider as your strength and one thing that you would like to improve on?
My learning agility has always helped me navigate ambiguous paths and solve business challenges comfortably. At the same time, I am committed to enhance my storytelling skills to deliver key, engaging messages with deeper impact.
What should leaders do: Create more leaders or create more followers and why?
I believe leadership need not come with titles, everyone can choose to lead in their domains. Therefore, it is vital for a leader to enable such a culture. This can be done by building next generation of leaders who are well positioned to take the organisation to next level.
One thing that makes you passionate about your work?
People around me. In particular, my fantastic team that makes me look forward to every day.
What matters to you most, effort or outcome?
While I strongly value results more, I also recognise the importance of celebrating milestones along the way.
What's the one most important factor you consider when hiring someone?
Grit, which for me is a critical asset in this ever changing dynamics around us
What sort of leader would your team say that you are?
One who plays to their strength and pushes to continuously raise the bar