Leadership
Impact at scale: The story of Gojek with Sunil Setlur
How does Gojek align its People & Culture strategy to deliver greater impact? By building customer empathy as a muscle within its workforce, says Sunil Setlur in the latest episode of People Matters Unplugged.
The idea of HR transformation can seem abstract and daunting for many of us. But what does it really look like in everyday scenarios? How is it operationalised in the workplace?
Sunil Setlur, Chief People Officer at Gojek, joined People Matters CEO Ester Martinez for an exclusive interview about the HR transformation journey of Gojek on our podcast People Matters Unplugged.
Every business will start with a product and a mindset. But the market forces us to evolve. How did Gojek transform from an operations-driven to a technology-driven organisation?
At the heart of GoJek was the belief that the Gojek driver in Jakarta was a force for good and that helping them get organised and giving people access to services was going to transform life in Jakarta. It was a dream to make Jakarta more livable and to make the lives of the Gojek driver ennobled. 
Initially, Gojek began as a call centre. You would call in – it was a radio taxi service – and somebody would get a Gojek to your address. 
As you can imagine, the only way to scale in that kind of environment is to keep adding more and more people to process the calls. It was an early stage business idea. 
It was great, but our founders were thinking deeply about not just making incremental growth but also  about touching the lives of as many people as they could. When they reflected on it deeply, they realised that the only way to do that was to be a tech product that was going to be on everyone's phones at the right time. That was the big bet. 
In 2015-2016, we made the decision to become an app-led business. The primary way our customers were going to access our services was through an app. The journey really began then.
Gojek has been one of Asia's biggest IPOs. How do you see that from the perspective of people leadership?
That's a great question. When you think about an IPO and simplify that to a few questions, you need to have confidence when you speak to investors about a few things. 
Number one, what are your goals? Are those goals shared by everyone in your company? 
Number two, when you achieve outcomes against those goals, which is [from your] performance, how is that performance aligned across the organisation? 
Number three, do you have the people to deliver on your stated strategy? Do you have the right people with the right skill set? The right leaders? 
Number four, how do you know that these are the right people? How are you holding them accountable?
Number five, are you doing everything legally, ethically and properly in a way that reflects that? Obviously, there are also other considerations such as ESG. If I were telling a story about the organisation, what are the things I need to signal to investors that we are going to deliver on the promise ... on the market opportunities that we are going after. 
When you're dashing to an IPO, it feels like the IPO is the finish line. What you're really doing is you're running to the starting line, and then you're running a never-ending marathon. You're running a race.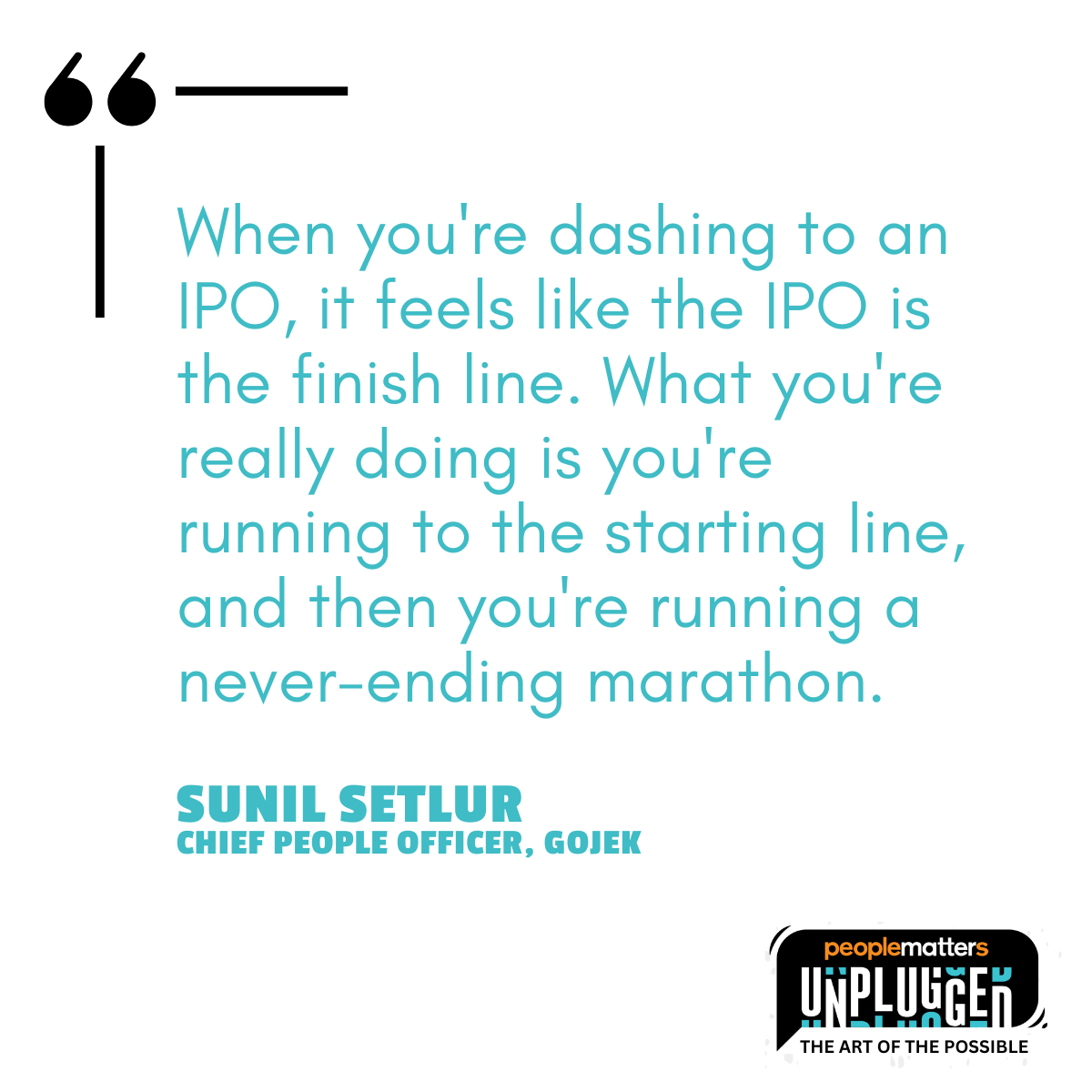 You have to have a system that delivers those outcomes. You can't do this as a project. If you say, 'We are going to reach X million customers with this new product, what are the proof points? Do you have the right team? The right leadership? Are you investing in the right way?
There's a process question. There's a money question. And then there's a people question. With the people question, [you ask] what does your org structure look like? What kind of skill distribution do you have within. So, those become questions on goal alignment, which is very, very important in the IPO process.
How do you look at business growth?
The trick is not so much to say, 'How do I manage an internal set of stakeholders?' To increase your remit of impact, [ask], 'How do I help this business drive impact to all its stakeholders?' Whether it's investors, customers, employees, suppliers, et cetera.
I think that the way we tackle that challenge is by amplifying the voice of the customer – and the customer could be whoever is the recipient of our services.
Because we're a marketplace, you know that there's a supply side and a demand side. So, from a talent standpoint, from an HR standpoint, what we did was really invest a lot of energy in building customer empathy as a muscle within our workforce.