A Brand Reachout Initiative
HR Technology
Here's why there is a need to step up HR tech adoption
AdaptableHR Read similar articles
While the HR teams look forward to use more tech and analytics for better decision making in areas like performance management, capability building and retention, over-reliance on HR tech solutions as a silver bullet is not recommended.
Organizations in APAC are struggling to get value out of HR platforms they have invested in. Only 45 percent of the respondents in the Alight's State of HR Transformation Study 2018-19 say they are either highly or somewhat satisfied with their HR technology.
HR technology is revolutionizing the way HR professionals are working; their role is expanding and becoming that of strategic leaders, transforming organizations with cutting-edge technology. It has been some time that we are having these conversations. There are several chatbots available in the market out there to screen resumes, interview filtered candidates, they can even capture the employees' emotions and feedback. However, Alight's last edition of research has shown that over-reliance on platforms as a silver bullet for program administration leads to lower satisfaction. 
Participate in the Alight's HR Transformation Study 2019 to 2020 & share your sentiment on the current state of HR tech adoption. 
To be able to derive maximum ROI from plethora of HR technologies available, HR teams need better implementation strategies and more efficient execution process in place. Before we delve into how HR leaders can step up HR tech adoption, first let's reflect on the state of HR technology adoption and the need to improve it: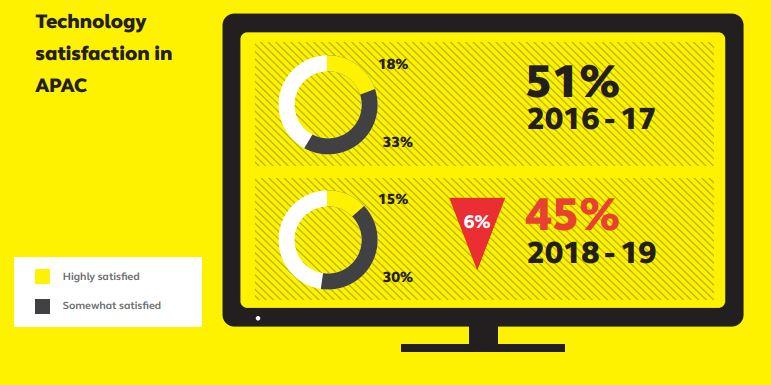 Click here to share how the HR industry will fare in 2019-20
Over 60 percent of the respondents shared that they plan on making or evaluating new investments over the coming 12 to 24 months.
Consolidation of HR platforms was observed to be on the rise in APAC. However, there was a dip in prevalence by nearly 10 percentage points, the shift from the 'best of breed' mindset being evident.
Two-thirds of the participating organizations shared that they plan to implement more robust people analytics in the coming 12 to 24 months, primarily to solve issues relating to performance, capability, productivity and retention.
When it comes to choosing the right HR tech platform or solution, the decision will be increasingly anchored around user experience, configurability, analytics and pace of innovation.
While the HR teams look forward to use more tech and analytics for better decision making in areas like performance management, capability building and retention, they are not yet skilled enough to maximize the potential of these solutions. This lack of capability was even highlighted in the study, with the capability of current HR teams and the ability to link analytics to business outcomes identified as the top issues organizations are trying to address.
HR capability building 
Beginning with Business Acumen and Digital skills to behavioral competencies like adaptability and innovation, the organizations have to invest in building capabilities among their HR teams and enable them to maximize the potential of themselves and technology. 
To make most of HR tech and analytics, HR functions will need to design programs with an adoption mindset. HR transformation as a journey beyond adoption of platforms demands a mindset change on the part of HR leaders fairly early in the process. HR professionals would hence have to think of the mechanics of execution to prepare the organization, and plan for capacity to enable this change. 
As the drivers of change themselves, they must lead the process with utmost clarity and precision. The focus therefore for organizations  is to greatly enhance HR's capability and this would probably happen with a combination of learning interventions and a culture that allows them to experiment and solve both old and new challenges in different ways. More exposure, involvement and the drive to scale up from HR teams will help organizations boost their HR teams capability. 
With more tech ready HR teams, organizations will be able to maximize the Return on Investment (ROI) of HR tech solutions. Additionally, here are the other three phases of technology journey for HR leaders to keep in mind for stepping up HR tech adoption.
Stepping up HR tech adoption: Tech journey to keep in mind
The Alight's State of HR Transformation Study 2018-19 stated that to drive business outcomes, governance should focus on critical decisions regarding fiscal discipline, risk management and policy creation. 
When HR leaders are working on the HR tech implementation policy here are three phases of technology journey they can keep in mind:
Evaluation: Consider outcomes and not requirements; do away with Request for Proposals (RFPs) and focus on live configurations to test for experience and ease of adoption for HR tech solution you are going forward with. The reports suggests that business cases that consider outcomes combined with total cost of ownership are more likely to succeed.
Execution: Technology today is more about HR and less about IT, however to actualize this, organizations will need to start the execution with their best resources across strategists and business partners.
Realization: Track for adoption, act on analytics and use insights to drive data-based governance; continuously engage the business by providing transparent insights.
To get the latest insights on how you can step up HR tech adoption in your organization, participate in The HR Transformation Study 2019-2020. 
Click here to learn more: The state of HR Transformation Study 2019-2020.