C-Suite
Rapid Fire with Unilever's CHRO, Leena Nair
Chief HR Officer and member of the Unilever Leadership Executive, Leena Nair gets candid with People Matters and reveals some personal and professional secrets.
She is the first female, first Asian, youngest ever Chief Human Resource Officer of Unilever. Leena Nair, recognized as the LinkedIn Top Voice 2018, is an inspiration for many aspiring HR professionals out there. From Kohlapur, Maharashtra to London, from an engineer to an HR professional it has been quite a journey for Leena.
It was in 1992 that Leena joined Unilever as management trainee of Hindustan Lever. As she kept learning and growing in the company, she took on many roles from Factory Personnel Manager of Lipton (India) Ltd in 1993, Management Development Planning Manager of Hindustan Lever in 1997, to Employee Relations Manager of Hindustan Lever in 1996.
She was one of the first female managers to opt for a factory stint. From the very beginning, she liked setting the trend and hence it is not surprising that she went on to become the first woman on HUL's management committee and its youngest executive director.
In 2007, she became the first woman in the Management Committee of Hindustan Unilever in 90 years to head HR. She was also the first woman to be on the Unilever South Asia Leadership Team a year later. She had then taken the responsibility for Unilever's growth in markets including India, Pakistan, Bangladesh, Sri Lanka, and Nepal. Since then she has come a long way and currently, as the CHRO of Unilever she is responsible for the human capital needs of Unilever.
With a passion to lead company's global people agenda that spans across our 160,000+ employees in over 100 countries, she ensures that Unilever has the right people, in the right roles, with the right capabilities and mindset to deliver high business impact that enables Unilever to meet its ambitious goals to decouple growth from its environmental footprint whilst increasing its positive social impact.
As the first female CHRO at Unilever, Leena's personal goal is to build an inclusive environment where all members of our diverse society can contribute and succeed in equal measure.
Leena says, "My purpose is to ignite the human spark to build a better business and a better world."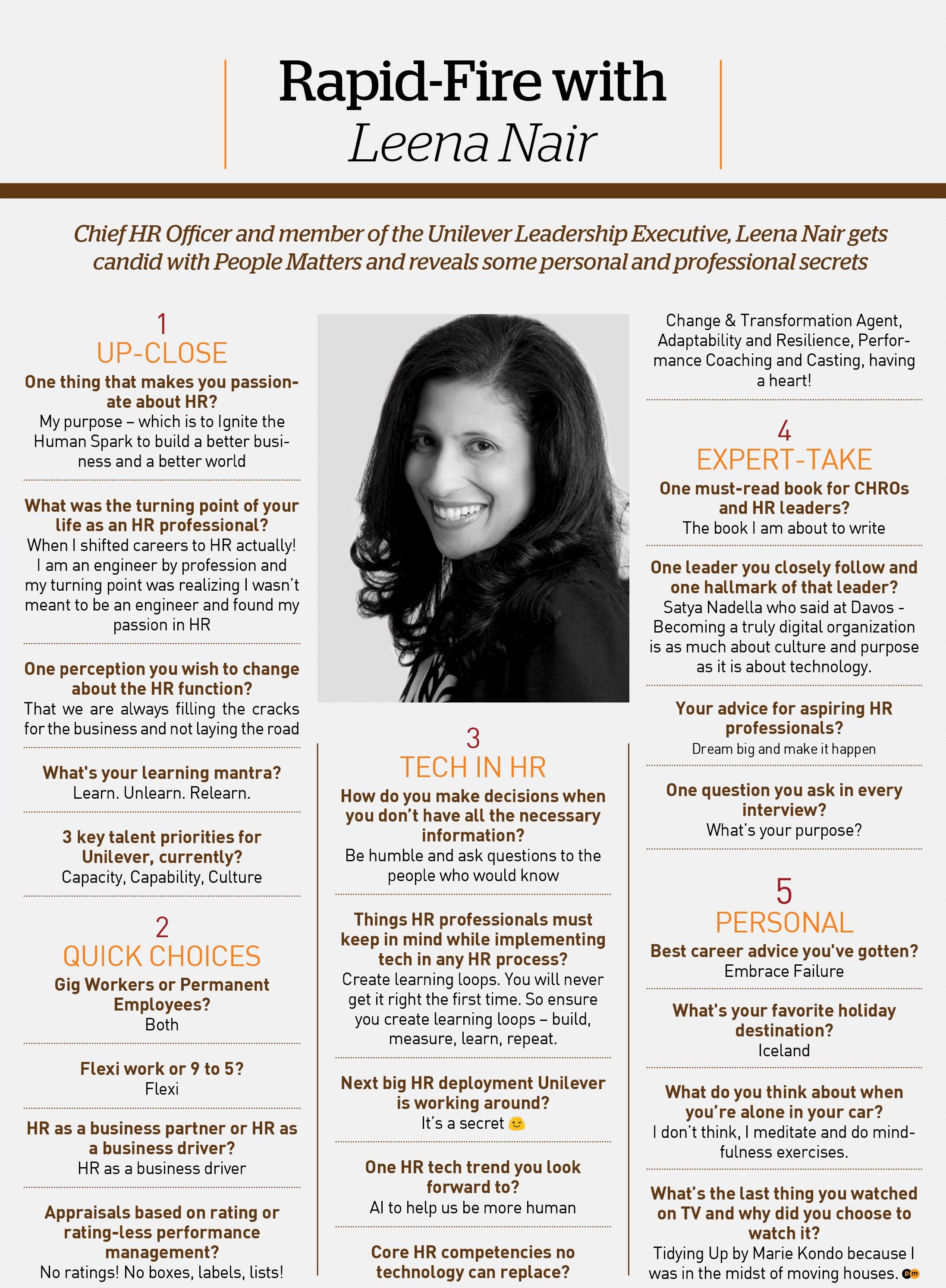 Meet Leena Nair at People Matters TechHR on 1st & 2nd August 2019 in Gurgaon. Click here to register or know more.