Appointments
Major HR movements from July 1st to September 30th - 2019
In this article, we highlight some of the major movements which took place from July 2019 to September.
We have completed the second quarter of the financial year 2019-20 and also stepped into the third quarter of this year with high hopes from the industry. The second quarter of the fiscal year 2019-20 witnessed some significant HR movements in this domain, and industry leaders from top to mid-level shifted their companies, some got elevated, and few of them got kicked up. In this piece, we highlight some of the significant movements which took place from July 2019 to September 2019.  
July
Rajendra Ghag - With a career spanning over three decades across FMCG, Insurance, and Logistics industries, working for established brands with nearly two decades in Cadbury followed by six years in DHL and close to ten years in HDFC, Ghag took over as CHRO of Blue Dart. Former lead of business excellence and Chief Value Officer, HDFC, he was also among the 100 most influential HR professionals in Asia as ranked by CHRO Asia.
Prashant Khullar - Max Life Insurance named Prashant Khullar as its new Senior VP HR. Prior to this, Prashant was the CHRO of Mahindra Holidays & Resorts. Khullar comes with about 21 years of work experience in the hospitality industry. He started his career with the Four Seasons Hotel as a management trainee in 1998 and then moved onto ITC and then Hyatt Hotels.
Subhankar Ghose- Chief People Officer of Zoom Insurance, Subhankar Ghose joined Morphosis Projects, and EON (Essence of Nature) Resorts as Director, People, and Strategy. 
He is responsible for scaling up the business strategy and best people's practices for both the Morphosis Projects and EON. 
Kathy Gentilozzi - Planet Fitness appointed Kathy Gentilozzi as their Chief People Officer. Gentilozzi joins Planet Fitness with more than 30 years of Human Resources leadership experience at national retail brands including FULLBEAUTY Brands, Macy's and Aéropostale. Most recently, she served as Executive Vice President of Human Resources at FULLBEAUTY Brands, where she led all Human Resource initiatives. 
Sidhartha Ghosh - Sidhartha Ghosh joins Adani Wilmar Limited as their new CHRO. Prior to this, Ghosh was associated with Reliance Industries Limited, Hydrocarbon Business as Senior Vice President / Corporate Head of 'Industrial Relations' for manufacturing, exploration & production, and petroleum (R&M). He was based out of Reliance Corporate Park, Navi Mumbai. 
Anita Bhatia - Anita Bhatia joined ETMONEY as HR Head. Before ETMONEY, Bhatia was working as HR Director in Mastercard, where she spent more than a year. Before that she has also worked with British Telecom as Senior HRBP & Diversity Lead. She has also spent more than 4 years in American Express as Relationship Leader - Human Resources.
Siew Lee Tee- Based in the automobile company's Kuala Lumpur office, Siew Lee Tee joined Tan Chong Group as Deputy General Manager, Group Human Resources and will be reporting into the General Manager, Group Human Resources.
Prior to joining Tan Chong Group, Tee was Director, Human Resources at Sunway Malls. At Sunway, she used her expertise in constructing and implementing frameworks for talent, culture and other HR led initiatives.
Debra Sercy -New York-based ad agency Johannes Leonardo appointed executive search firm Grace Blue's Joint CEO - Debra Sercy, as first Chief Talent Officer. With prior experience on the agency side with Mother and The Richards Group, looking into accounts like Coca-Cola, Target, Dell and The Home Depot and a sever year stint at New York's leading search firm, Sercy has experienced the best of both the worlds. In her new role as Chief Talent Officer at an ad agency, she has an opportunity to utilize her knowledge expertise to deliver desired talent outcomes.
 August
Suchitra Rajendra - After working with PepsiCo for more than thirteen years, Suchitra Rajendra, CHRO and VP Human Resources India Region of PepsiCo joins COLT Tech as Country Head, India and HR Head, Global Operations (Europe and Asia).
Vijayaraghavan Pisharody - Simulation-based learning company KNOLSKAPE appointed Vijayaraghavan Pisharody as its Vice President and CHRO. Vijay is responsible for leading the company's capability building and capacity enhancement, including Talent Management, Leadership Development, and Learning.  
Bobby Joseph - BVC Logistics recruited the renowned HR veteran Bobby Joseph as President of HR. Bobby Joseph joins with experience in logistics, hospitality, infrastructure, and BPOs and had led the HR practice for enterprises with thousands of employees, for over 25 years. Bobby was the Director - HR in a leading HR consulting firm and has transformed cultures at organizations like Larsen & Toubro, Transworld Group, BJN Hotels, Writer Corporation & Brinks. 
Claudine Naughton- Activision Blizzard, the producer of some of the most famous franchises including World of Warcraft, Call of Duty, Candy Crush, Hearthstone, and Overwatch, has appointed Claudine Naughton as the Chief People Officer. Naughton brings with her an experience of more than 20 years at the American International Group Inc. (AIG), where her most recent role was that of an Executive Vice President and Chief Human Resources Officer.
Alyssa Lahar - DiscoverOrg and ZoomInfo, two companies that joined together to provide sales, marketing, and recruiting professionals access to comprehensive B2B data available in the market, announced the appointment of Alyssa Lahar as Chief Human Resources Officer (CHRO).
Lahar brings over 22 years of high-growth human resource experience to DiscoverOrg and ZoomInfo. She joins the company following 19 years at Dell Technologies (formerly EMC Corporation), most recently as Vice President of Human Resources in Dell's Storage Division, supporting the $10B organization with over 5,000 employees
 September 
Kristi Erickson - Publicis Sapient, the digital business transformation hub of Publicis Groupe, appointed Kristi Erickson as Global Chief Talent Officer. Kristi is an accomplished professional with over 30 years of experience working across organizations and partnering with their C-level executives to develop and drive talent and culture strategies to enable business strategy. Prior to joining Publicis Sapient, Kristi held Chief People Officer roles spanning verticals, regions and horizontal service lines. 
Adja Ba - PosiGen, the provider of renewable energy and energy efficiency solutions for low-to-moderate-income homeowners, has announced the addition of Adja Ba as its new Executive Vice President of Human Relations. 
Ba comes to PosiGen with 20 years' experience working for a Multi-National Firm with operations throughout the world. She recently transferred from Paris to Houston, where she served as an HR Leader with extensive experience in managing employees' Engagement, Leadership & Performance while also focusing on establishing a strong safety culture for team members. 
Khara Julien - Americold Realty Trust traded REIT focused on the ownership, operation and development of temperature-controlled warehouses, announced Khara Julien as the Executive Vice President and Chief Human Resources Officer (CHRO). Julien brings nearly 20 years of human resources experience in the manufacturing and distribution industries to Americold. In her previous role as VP and CHRO for Gypsum Management & Supply (GMS), she successfully guided the company through more than 30 acquisitions, while taking GMS from private to publically trade on the NYSE in 2016.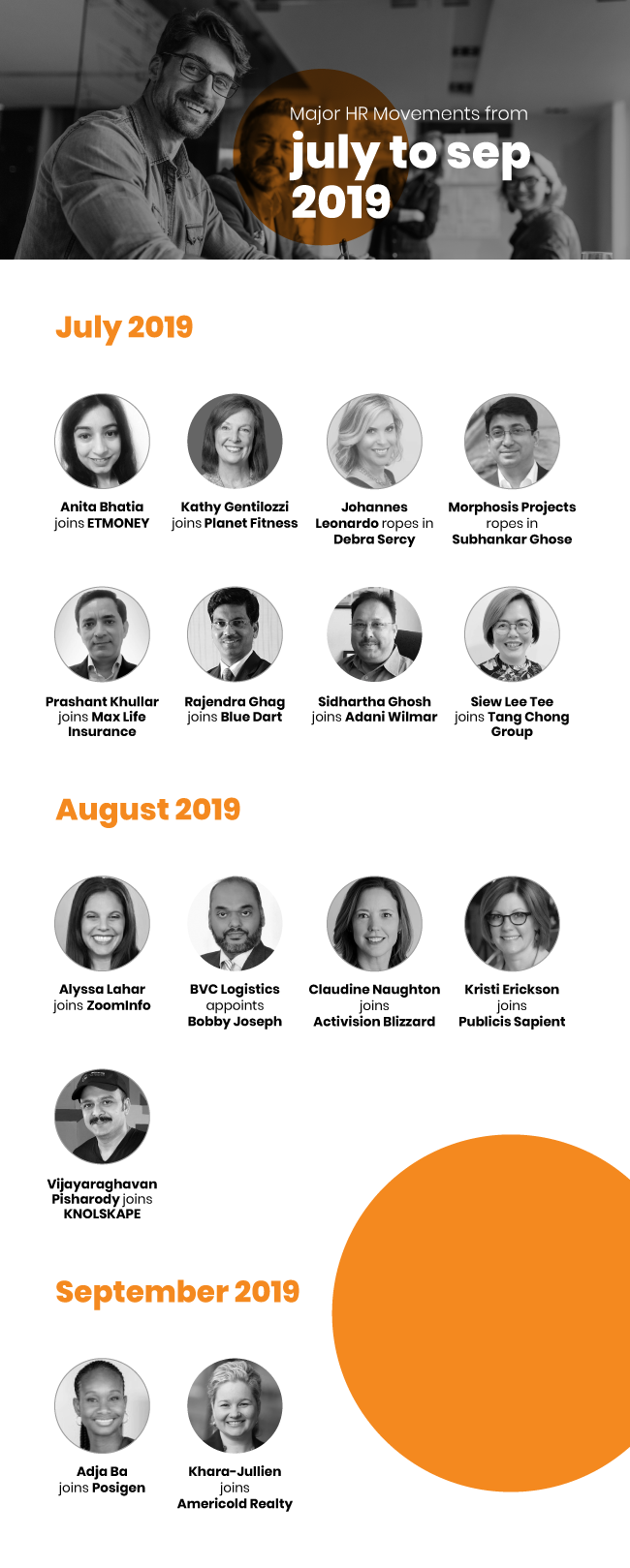 Note: We have tried to include all the essential movements among the senior HR leaders. If we have missed anyone, please let us know and we would be happy to add it to our list.